Navigation Bar

Click the tower to hear a statement by the Founder Justin Eric Sutton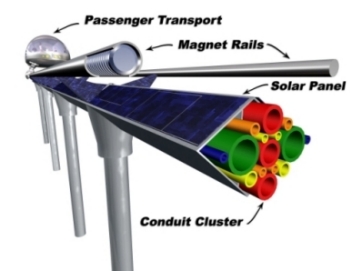 The Rail Conduit Cluster is a new unified form of Municipal Infrastructure in a secure and accurately managed distribution system for passenger transit, water, natural gas, electric, fiber optic, high temperature superconducting cable, liquid or gaseous hydrogen, and pressurized liquefied waste.
The entire operation of all controls for the Conduit Cluster system are managed using TCP/IP technology giving real-time control and monitoring of every car on the system, every watt of electricity, every cubic meter of hydrogen, and every gallon of clean water produced by our hydrogen fuel cells, and everything else in the conduit cluster

The Central Support of the Rail Conduit Cluster is laminated with solar cells. The Central Support provides a eight foot wide surface area to include also the 8 foot wide surface area on the rail that runs the opposite direction providing a total width of 16 feet of solar panel that runs the entire length of any installation of the Interstate Traveler. Based on 10 watts per square foot at peak time, each mile of rail will produce about 844,800 watts of electricity per hour at peak time. An installation that is 100 miles long would therefore produce about 84,480,000 watts per hour at peak time, or roughly 84 megawatts per hour peak time. Essentially, a 100 mile long installation supports 8.4 million square feet of solar cells.
100 miles generates ~ 84.4 megawatt-hours during one hour of exposure to the sun at peak time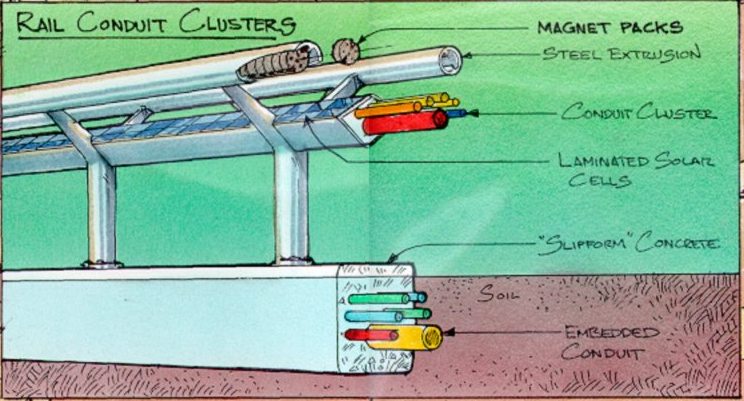 Quick Links!

Watch a 4 Minute Video!!!

22 Points of Interest

A Brief Summary

64 Frequently Asked Questions Answered

A Summary of our progress

Meet our Team of extraordinary professionals