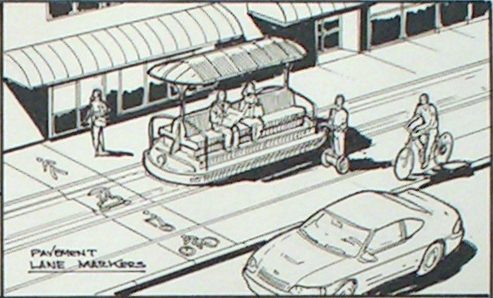 The Parkway Traveler
"Slidewalk"
The Parkway Traveler is the ground level magnetic levitation transport system that integrates the HyperSideWalk system of extruded conduit with the basic requirements of meglev propulsion for a small 'Street Car' styled Transport that fits on a sidewalk. The Parkway Traveler Transport is perfect for busy boulevards with miles of high-density shopping.
The Parkway Traveler "Slidewalk" is an ideal integration with Segways, Bicycles, and pedestrians creating dedicated traffic lanes for each mode of travel. Also, as the Parkway Traveler is a part of the Interstate Traveler Hydrogen Super Highway integration program, heated sidewalks and street lamps and emergency phone booths will practically ubiquitous.
Parkway Traveler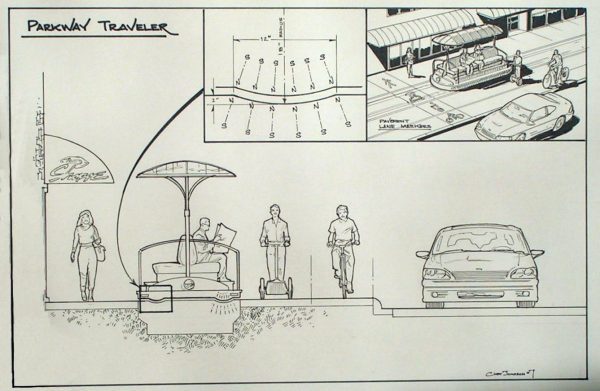 Transport Canopy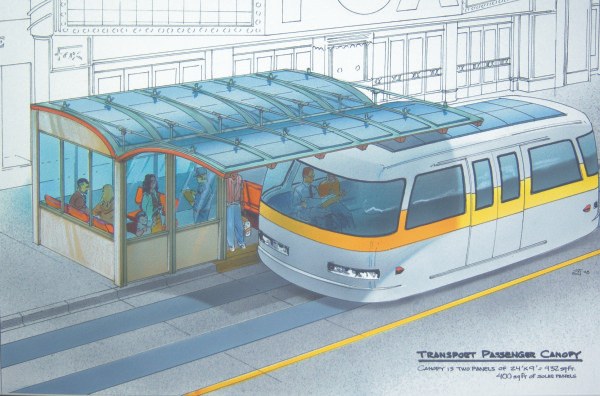 The Transport Canopy where Travelers will step on and off of the Suburban Traveler will support at least 400 square feet of Photovoltaic panels on the roof. Using premium solar panels that can produce more than 30 watts/square foot at peak, therefore we can expect to generate 1,200 watts/hour. By installing a Transport Canopy in the center of each block along city streets the factoring for the solar panels is greatly improved. Enclosed area of the Transport Canopy is 24' x 9' = 216 SqFt.
Key Benefits
Enclosed Area: 216 ft2
Total Roof Area: 432 ft2
Solar Panel Area: 400 ft2
Solar Generation: 30 Watts/ft2
Total Watt output: 1,200 Watts/Hour / Canopy
Suburban Traveler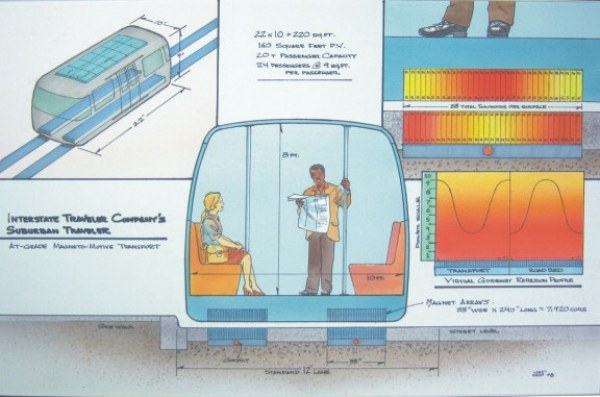 The Suburban Traveler as depicted above is an ideal integration of maglev with a light duty, 'At-Grade' public transportation system.
Key Benefits
Ground level installation creates zero obstruction
Maglev "Virtual Guideway" levitation and position control
Below ground utility conduit installation
Near zero maintenance
Glide tracks are spaced the same distance apart as the standard wheel base of most cars.
Total coil area: 33" x 264" = 8,712 In2 * 2 = 17,424 In2
One Coil per Square Inch
Estimated Levitation Power Demand @ 1 watt / LB
17,424 Coils / Transport @ 1 Watt / Coil = 17,424 Lbs Levitation Capacity
---